Friday Question Day
If you could have 50 pounds of anything other that money (or a huge tub of butter) what would you choose?
--Heather Anne
My knee-jerk response to this question was to think of all the spy equipment I could fit under 50 lbs. so I could get more than 50 lbs. worth of money (think Charlize Theron, The Italian Job). However, I then decided that if I was going to be stealing money I didn't need to waste my 50 lbs. on that.
My thoughts drifted to other things: 50 lbs. of hard drive, 50 lbs. of chicken, 50 lbs. of sauce. But, really, I can buy all those things. What can money not buy?
Viennetta.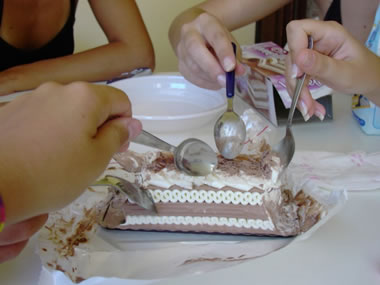 You may remember this product of days gone by. It was ice cream. It was cake. It was decadence. They had cheesy commercials that were so cheesy I was always compelled to imitate them whenever I had Viennetta.
Viennetta is one of my first real memories of Heather. She was a friend of a friend and we had some classes together. Also, she was freakin hilarious. I was under personal reconstruction and was trying to make good decisions for the first time in my life.
Heather? Good decision.
We were sitting around one day having a "Remember Fraggle Rock?" conversation* when Viennetta came up. She instantly cued up Google Image Search where we met Bob The Viennetta Man who managed to get himself onto Google by eating two Viennettas for dinner on his camping slash fishing trip with his other smarmy middle-aged friends. (His friend, Vern, managed to make the internet by breaking his lawn chair. Caption: R.I.P. chair.)
Before we blogged, Heather and I passed notes in class. Usually, she would draw me sketches. Her first sketch was of Bob the Viennetta Man. I had to leave class I was laughing so hard. And that was the beginning of the end.
We wrote letters to Nestle saying, "What the hell happened to Viennetta?" We talked about it all the time. We shared our grievous product concerns with our friends, encouraging them to write in as well.
If you think this sounds not unlike what we do now, you'd be right. Viennetta was the trail blazer for current topics such as Business Cat or say, a Tub of Butter.
Since I can't buy any (damn you, Nestle) I'd ask for 50 lbs. of this memory.
What would you get 50 lbs. of?
*"Remember Fraggle Rock?" conversation: The conversation you've had a millions times, usually in mixed groups of people you don't know that well, covering topics such as the 80s, New Kids on the Block, tapered jeans, and Reading Rainbow.