Way to go, Michelle!
Congrats to Michelle, the deserving winner of The Biggest Loser. I know that happened weeks ago, but I've been really busy driving all over Southern California and doing a whole lot of nothing.
In the end Michelle was up against Vicky, Ed, and Heba who had formed an alliance and were horrible, horrible people. One time, Vicky made a Revenge List and posted in on her door. Another time she audibly laughed at other contestants during weigh in. She is horrible and her little cronies are too. If any of them had won, the whole world would have screamed. But this awesome thing happened. Here's how it went down:
In an odd twist of fate, Heba and Ed ended up competing for the third spot in the finals. The decision was left up to the public to vote between the two. Ed, being the dutiful husband, begged America to let his wife win. Heba also begged America to let her win.

America gave her the backhand: In a "landslide" vote, 84% of the votes cast were against Heba.

In other words, if she had curried a little more favor with the public, she would have landed the third-place spot -- and she would have won.

Afterward, asked why America voted against her, she said "I guess there are just a lot of negative people out there who don't like to see success." (Heba, who said she wanted to join the show to lose weight so she could have a healthy pregnancy, said family planning is on hold for now: "I want to spend a summer where I can wear a bathing suit and not feel bad about myself. Call me when that's over.")

(Summary courtesy of Rene Lynch over at the LATimes. Check out the full editorial, it's awesome.)
Gah. Don't you hate her? I'll admit to liking it her at least some of the time. I thought she could be pretty funny and I thought she was playing a good, but fair game. And sometimes I could tell she was scared of Vicky, too. But she didn't deserve it more than Michelle--and because of her alliance with the devil, I don't think she deserved it at all.

Michelle def deserved it. She outperformed nearly everyone in challenge after challenge and also she forgave her mom which woah, must have been hard. So. Yay for Shelly!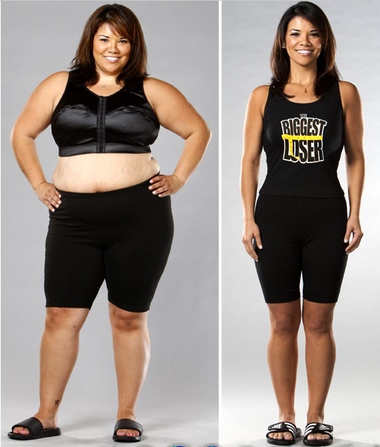 You may have seen these before/after images on the cover of US Weekly or TBL website and thought, "Wow, that bra looks way more supportive than what she what she wore on the show." At least, that's what I thought. A few months ago I remarked that, "They should give the girls better sports bra. They exist. Post on that forthcoming." Obviously, that post never appeared. But now I feel convicted. This black super supportive bra that Michelle is wearing? I own it.
It's the Last Resort Bra by Title Nine.
Product description:
If you've tried every bra out there and still bounce, try this one. Our first-ever 5-barbell rated bra ain't pretty, but our testers say it completely eliminates bounce. Literally, you won't move, and that's a beautiful thing. Sturdy nylon/spandex construction. We recommend this as the workout bra of choice for D, DD and DDD cups who don't want to bounce at all. Not ever.
And that is an accurate description. I wear this bra to RUN, like for real on streets and treadmills and things and it works! It defies physics! So, why why why did the show have them working out (all the time, every day) in this pathetic excuse for a bra?